Posted by FAT CHANCE BIKES on Nov 16th 2016
BUILDING AN ORIGINAL
The Slim Chance Story
The original Slim Chance road bike was the first of its kind and all too rare. And while the new Slim, built with the latest tubing and technology, is every bit as unique and fast as the original, Chris is launching it into a market that he helped create.
Bold words, but consider this: the original Slim Chance was possibly the first high-end, TIG-welded, production steel road bike that was built in America. Steel road bikes were mostly lugged or fillet brazed when Chris introduced the Slim back in 1991, and only Stelbel, in Italy, was doing TIG.
Fast forward to 2016. Most production road bikes are made of carbon fiber or aluminum, and Chris isn't the only designer offering an American-built, high-end, TIG-welded, production steel frame. The industry's switch to TIG welding to join road bike tubesets was probably inevitable, and if Chris hadn't been the first to do so, somebody else would have.
But as Aaron Stinner pointed out, the Slim Chance was something new. "It was an evolution for sure," Stinner said. "I don't think Chris was doing it just to make things faster, he was doing it to make a better bike." Technical merits aside, TIG-welding a high-end road frame, a product whose customers are as particular as its builder, was a statement. It also pushed cyclists and builders to re-evaluate some long-held beliefs. "Lugs served a purpose in being able to join tubes," Stinner said. "People were adding style through those lugs."
TIG WAS KIND OF THE NEW THING. NOW WE COULD MELT STEEL TO STEEL.
The evolution brought out the question what is elegance, what is style. "My design principle has always been simple. But what Chris was building screamed simplicity," Stinner continued. "But simplicity is hard to do. It's easy to overthink things. The Slim Chance was an evolution for sure. It's pretty profound from a design point of view. Chris was doing it to design a better bike."
Chris launched his framebuilding career in 1977 building custom, one-off, made-to-measure lugged steel road bikes. "When I was doing Chris Chance Cycles I really learned a lot about how to get a bike dialed in so it rides just how the rider wants it. I got the customer in, I measured up their body dimensions, I measured up the geometry of the bike they were riding, and then I'd interview the customer," he said. "And this is part of being a designer what I really loved: you take these very soft terms like 'stiff' and 'agile' and 'light' and translate that into numbers, which would then give the rider an experience that was hopefully dialed into what he was asking for.
What I found was I was really good at doing that. People were greatly satisfied by what I designed for them." But mountain bikes had arrived. Cyclists were taking their bikes places they had never been. For a creative problem solver like Chris, it was an opportunity to design a whole new bike. Mountain bikers were open to experimentation and innovation, and the prospect of designing bikes without the burden of traditions and constraints was exciting.
Chris shifted his focus to mountain bikes in 1982 with Fat Chance. It was an incredibly creative period for Chris and his crew as well as the industry. Experimentation was encouraged. Designers were expected to question the way things were done. The results of Chris' work is evident in the Wicked, Yo and the Ti. So why did Chris go back to the road market, with its traditionalists and traditions?
IT WAS AN OPPORTUNITY TO INNOVATE.
The Slim Chance project combined Chris' background in designing and building one-off road bikes with everything he and his crew learned building world-class mountain bikes. "We were leaders in the mountain bike market," Chris said. "I was very excited to get back into the road market. I was excited to use all that expertise from the years before (building road bikes)." And the Slim Chance they released in 1991 was so simple, so understated, that a cyclist could be forgiven for walking right past. It didn't have lugs. It didn't have fancy cutouts.
"The beauty of the Slim wasn't in the number of hours spent filing brass or cleaning up the frame. The Slim Chance was TIG welded."
Though its joints were as lovely as any other high-end frame, that wasn't the point. Its beauty was in the way it rode and handled. "We knew we had a good argument," for ditching lugs, Chris explained. "The argument for doing TIG welding was that we only used 30 grams of steel to join tubes," Chris continued. "We were saving a lot of weight." That doesn't mean it was weak.
The design had already been proven on thousands of miles of singletrack across the United States and around the world. "We were making something we completely believed in, as far as durability and performance were concerned," Chris said. "We used a road downtube in our mountain bikes for years and years." But Chris did much more than to simply drop the lugs. "I had a lot of experience designing how I wanted the bike to feel," Chris said. "I invested a lot in how I dial in the ride quality and performance." This meant focusing just on what matters: the ride.
"I like to build the chassis —the bottom bracket, downtube, chainstays — for stability, predictability and feedback of what the wheels are doing and energy transfer into what you're doing,"
"Other tubes build in some compliance or rigidity." What Chris designed was a bike that inspires confidence, channels the riders' efforts into the climbs and allows them to descend faster and to push deeper into the corners. "One of its main features is that you can trust it," Chris continued. "We call it telepathic handling. You don't want the rider to think about it. You have a thought and the bike just does it." And that's exactly what the 2016 Slim Chance does. "It's a medium-to-short wheelbase length and relatively quick handling but also pretty comfortable," Chris said. It's a modern version of the original.
"Part of what made Fat City and Slim Chance great back in the day was down to things like handling and comfort and a racy-feeling bike," Alex Palmer said. "And part of going through this Slim Chance design process to get to the new one — it made us realize we don't need to copy what everyone else is doing, and do it like a super-stiff modern steel frame. We still want to have those elements of the original, like a 36mm head tube, and that's what made it great in the first place."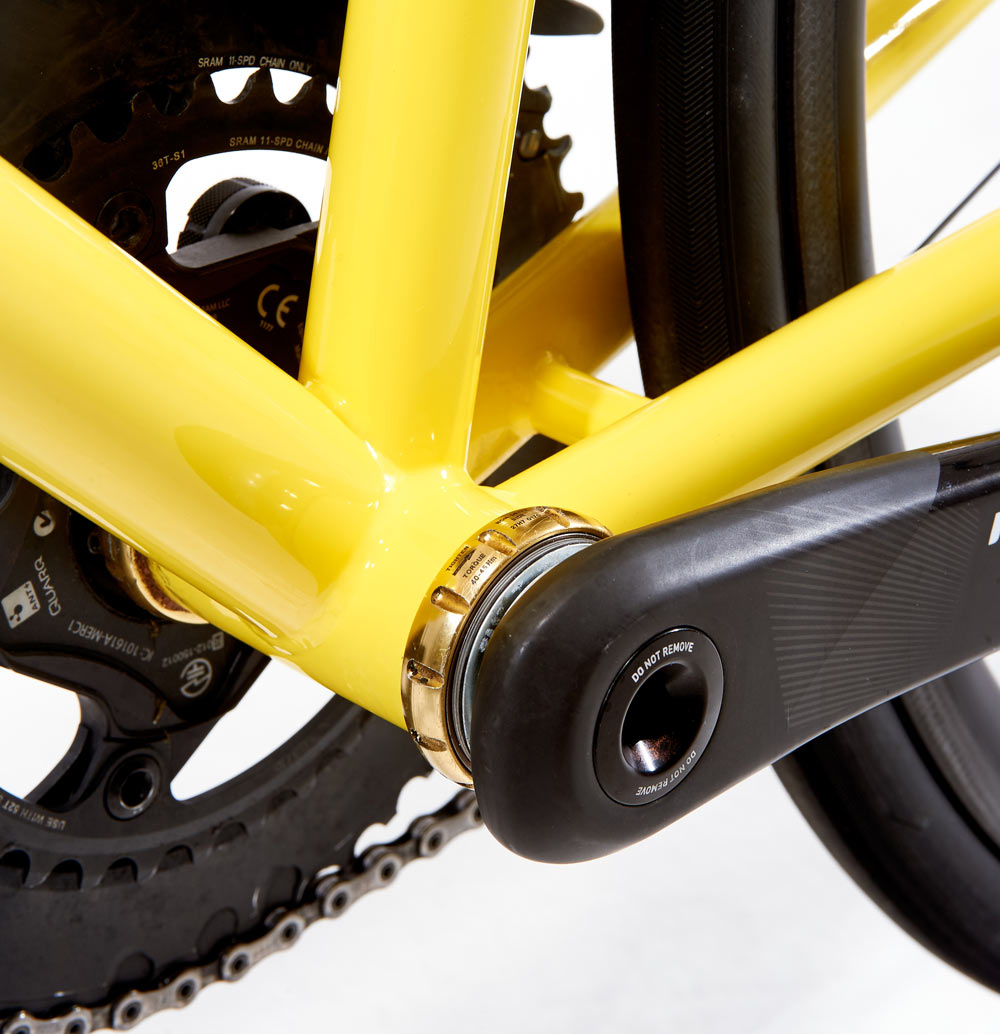 Riders who want to blend some comfort with their speed can order it with one of Chris' most underrated products: the segmented, curved and gorgeous Yo Eddy road fork, elements of which other builders have adopted. Chris is rightfully proud of its design. "I had other framebuilders say 'of all the stuff you've done that's like the coolest thing,'" Chris said of the fork.
Though the new Slim Chance is offered with the same four single color options as the original as well as the original graphics, it's thoroughly modern. Chris updated its tube profiles, geometry, and customers can choose between mechanical and electronic shifting.
But what hasn't changed is Chris' design philosophy or the way he works.
"Our previous success came from doing what we believe in and doing it as well as we can,"
"We had people having fun and enjoying riding what we do. To me that's what's most important."