Posted by FAT CHANCE BIKES on Oct 18th 2016
SLIM CHANCE / BICYCLING MAGAZINE REVIEW
The new Fat Chance Slim Chance is a TIG welded steel road frame, which isn't a big deal: Hundreds of builders all over the world crank them out daily. But 25 years ago, when the first Slim Chance arrived, a welded steel road frame was special. In the early 1990s, steel frames were almost all joined with brazed lug construction. TIG (which stands for tungsten inert gas) welding is generally more difficult than brazing and requires great care and skill. But properly executed, it results in a very light and strong joint.
Though Chris Chance is mostly known for his Fat City/Fat Chance mountain bikes, he began his framebuilding journey in the 1970s by training at Witcomb Cycles, a custom builder of high-end steel road frames in Connecticut, with the likes of Richard Sachs, Ben Serotta, and Peter (J.P.) Weigle. After Witcomb, Chance started Fat City Cycles in Somerville, Massachusetts, in 1982, turning out lightweight mountain bikes. This background enabled him to make the first Slim Chance road frame lighter than most of its peers (by forgoing lugs), yet very strong and stiff. Fat Chance shuttered in 2000, and Chris Chance took a 15-year break from the bike world. Today most steel road frames are welded, and it's the lugged and brazed frames that are a novelty.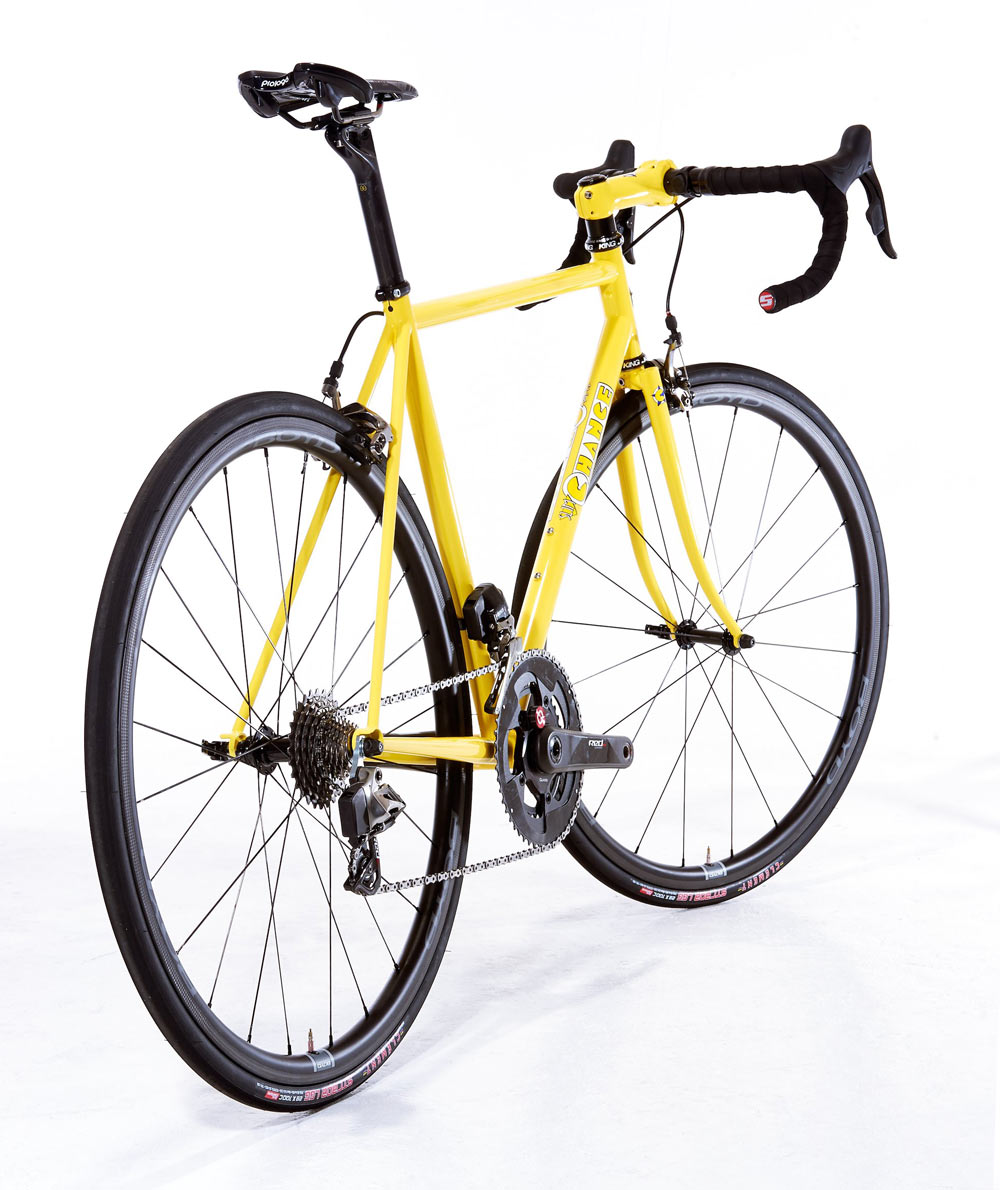 Now Chris Chance has returned, and so has the Slim Chance. The world around it has changed a lot, but the Slim Chance 2.0 isn't radically different from the original. It's still steel and still welded, the BB is still threaded, and there's still a pump peg. Geometry is even similar to the '91 bike (which is also similar to a modern-day carbon race bike like, for example, the Specialized Tarmac). However, the new Slim's tubing diameters have increased slightly, as have the fork steerer and seatpost diameters, to improve stiffness. But the Slim of today doesn't hold the same unique position in the bike market that it did 25 years ago. The norm for performance is in another galaxy now.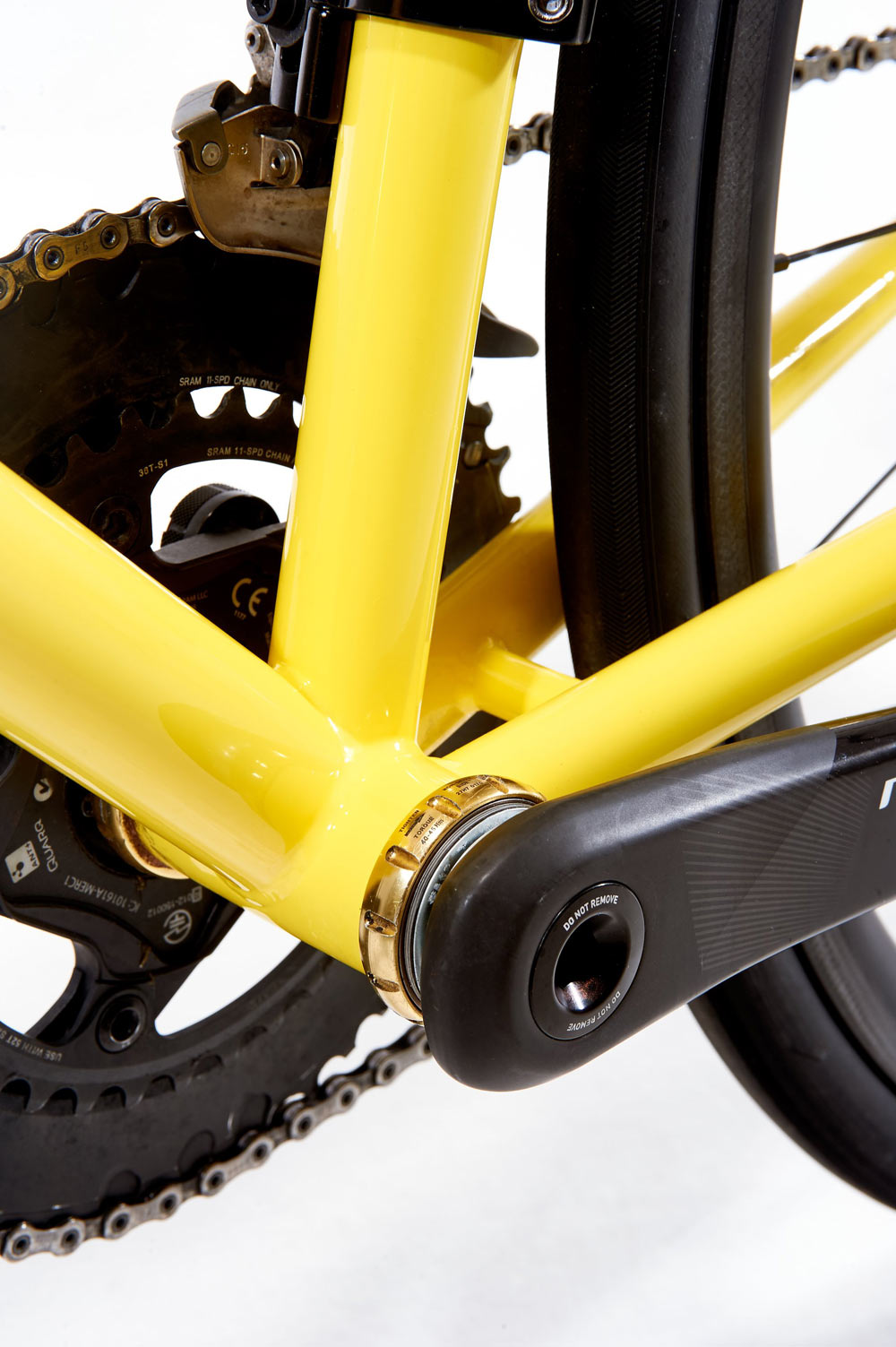 A GORGEOUS STEEL BIKE, ONE OF THE NICEST I'VE EVER RIDDEN.
The new Slim is still a high-performance steel road bike, but it's not fast, light, or stiff like a modern carbon bike. If you focus your bike purchases on what they'll do for you on the Strava leaderboard, this is not your bike. What it is: a gorgeous steel bike, one of the nicest I've ever ridden, custom or stock. It's delightfully smooth. I was hypnotized by the visible fore/aft oscillation of the fork legs moving in response to bumps. I melted with joy at the way the bike swooped wide arcs through turns. I giggled at how composed it was bombing at over 50 mph.
| | |
| --- | --- |
| Laser cut stainless steel headbadge, 36mm headtube, YO Road steel fork. | Color matched Silca Impero pump and Enve stem. |
| | |
THIS BIKE MADE ME STOP GIVING A CRAP ABOUT TIME, DISTANCE, SPEED, OR WATTS.
The frame is springy, lively, and courses with energy. I so enjoyed this bike that I pulled off the computer mount, because this bike made me stop giving a crap about time, distance, speed, or watts. Riding it just made me happy. Its heritage may be as a light racing bike, but in today's context, the Slim has the gravitas of an elder statesman. It will not hold you back, but it does not push you forward like the best high performance road bikes do. Sure, you can ride it hard, and of course a fast rider will still be fast on it. But this bike is about quality and freedom—and the experiences created by both. As a bike reviewer, I want to situate the Slim Chance among the many choices available to consumers and let you know exactly where it fits in. I don't know that I can. The Slim helped create the world of welded steel bikes, but because that world is now so big and rich, the Slim melts into it rather than stands alone. But it is remarkable that it can be reintroduced, with relatively few changes, and still feel like a fresh and modern craft-built steel bike. The reasons have changed, but the bike is still something special.
MORE DETAILS...
You can view full product details including geometry and detailed spec here on our website.
With our first batch of Slim's sold out the next batch will be available to pre-order in the coming days. Stay tuned to our newsletter to hear about it first.
Footnotes
Fill bike photos and text courtesy of Bicycling Magazine's Nov / Dec Issue, on sale now.