Posted by FAT CHANCE BIKES on Oct 18th 2016
MOJAVE BREVET


Taking the long road through the Mojave to Interbike.
In life, few things have acquainted me with the true essence of something as well as the unknown and unexpected. I've learned that to really strip back the layers and get down to the fundamentals of the people and equipment surrounding me, I have to experience things in action (and with a dash of adversity). In this spirit, I set off on a two-day 200-mile cycling adventure through the Mojave Desert with eight additional cyclists under the Rapha banner.

Our goal was to ride from Twentynine Palms, California to Las Vegas, Nevada in two days with a night of camping at a site without running water or amenities. We did, however, have a support vehicle that a handful of us took turns driving. We stocked the car with food, water, camping supplies and all necessary personal belongings for the adventure.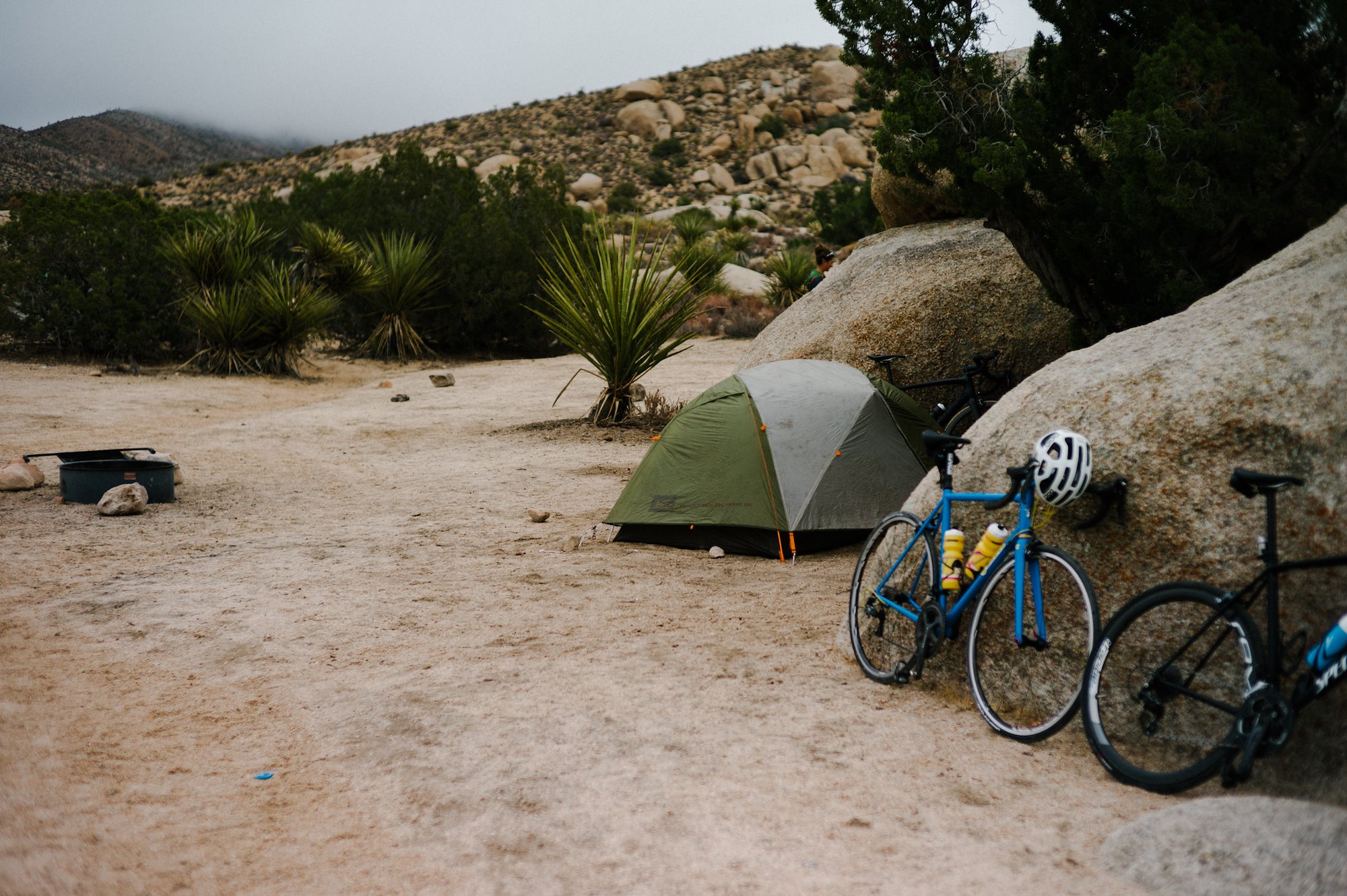 Naturally, I rode the most recent acquisition in my bicycle quiver, a Slim Chance. With very few miles logged on this particular machine, I faced the risk of uncertainty. I just finished setting everything up, and managed to get a 40-mile shakedown ride in prior. Most of the miles comprised of a spirited group ride, so at the very least I knew my bars and saddle were in the right place (and adequately tightened). Surely, worse starts before embarking on a two-day journey in the desert exist.
I planned the majority of our route, much of which I had driven in September, to eliminate as many potential problems as possible. The deep sand roads thought to be eliminated, a camping spot high enough to keep us from turning to raisins and avoiding the interstate for the final stretch into Vegas, which meant some rideable dirt, were accounted for. The weather, however, remained dubious. I planned for extreme heat, but instead, our group saw rain and cloud cover. I tried to ensure pavement most of the way, but within the first few miles, we encountered a road much a like a sand trap only worsened by a downpour.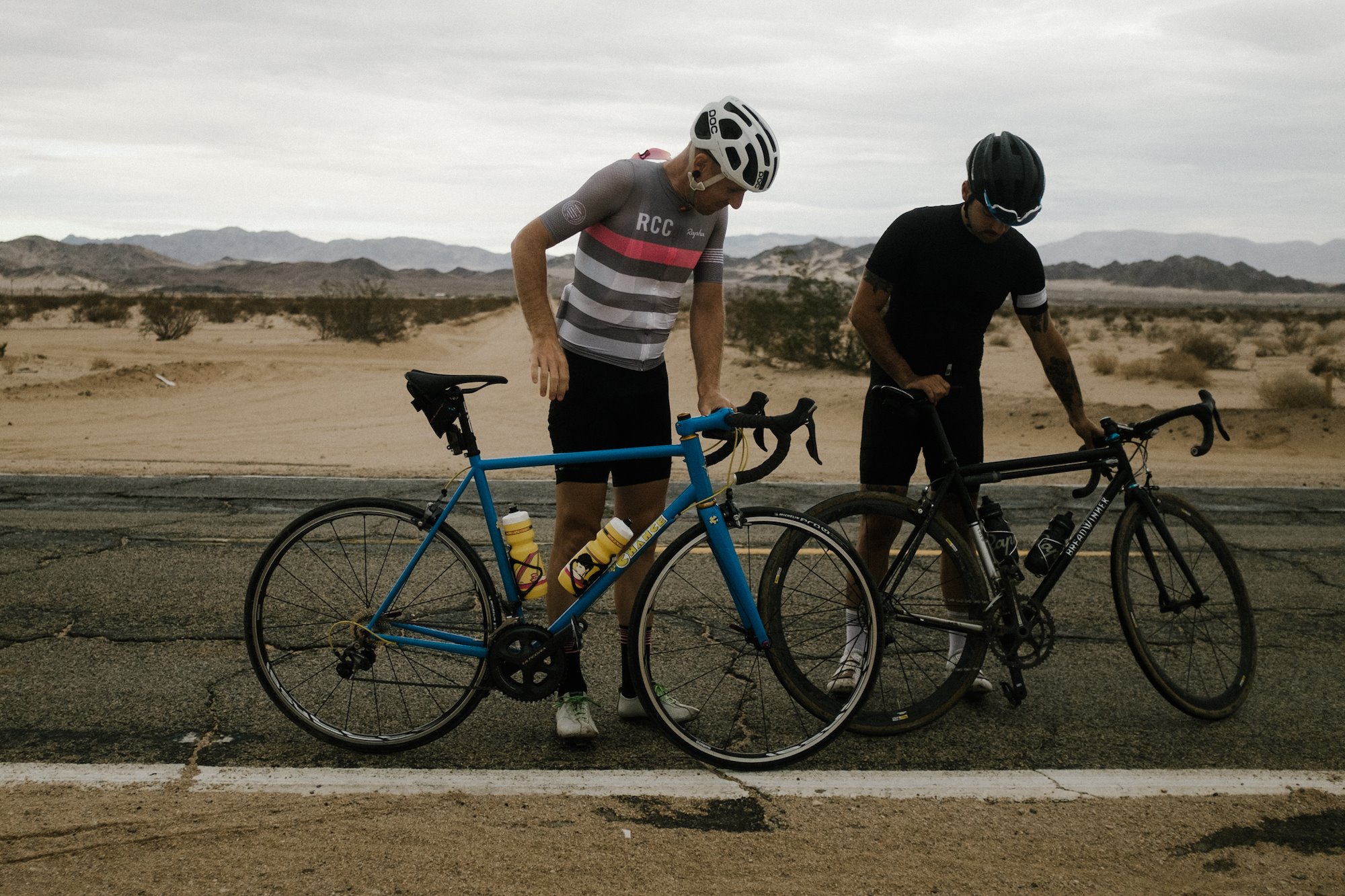 The rain continued while we camped and well into the next morning. Mother Nature was truly out of our control, and we made the best of it, reminding ourselves that we could have been pedaling in 115 degree weather. We managed to stay in front of the rain, while a dark ominous cloud cover nipped at our heels, all the way to Vegas on the second day.
As uncertain as the weather proved, the Slim Chance was the polar opposite, with certainty through and through. I felt just as good in the last few miles as I did the first. The bike rose to the occasion no matter what situation was thrown my direction; wet sand traps, dry loose gravel, ascending and descending rough terrain; everything on the Slim Chance inspired confidence. In fact, the clearance kept my bicycle from getting jammed with sand; others on the trip weren't so lucky. It was nimble, yet aggressive enough to hold 28-30mph for 20-30 minute stretches.
| | |
| --- | --- |
| | |
I've been riding my Slim Chance since returning from the Vegas, and it hasn't skipped a beat. From more spirited group rides, to long climbs to zooming around town, to getting from here to there, it's solid. The geometry, a perfect mix of classic meets current, has left more than one cyclist scratching their head as to how or why I could be passing them given my steel-fabricated bike. The Slim Chance will be the first bike I grab now that it has proven itself in the Mojave and elsewhere. Hopefully, I won't have to subject it to another night in the rain while I'm sheltered in a tent, but if I have to, I know it will be just fine. Check out the story and photographs from another perspective on the Rapha website here.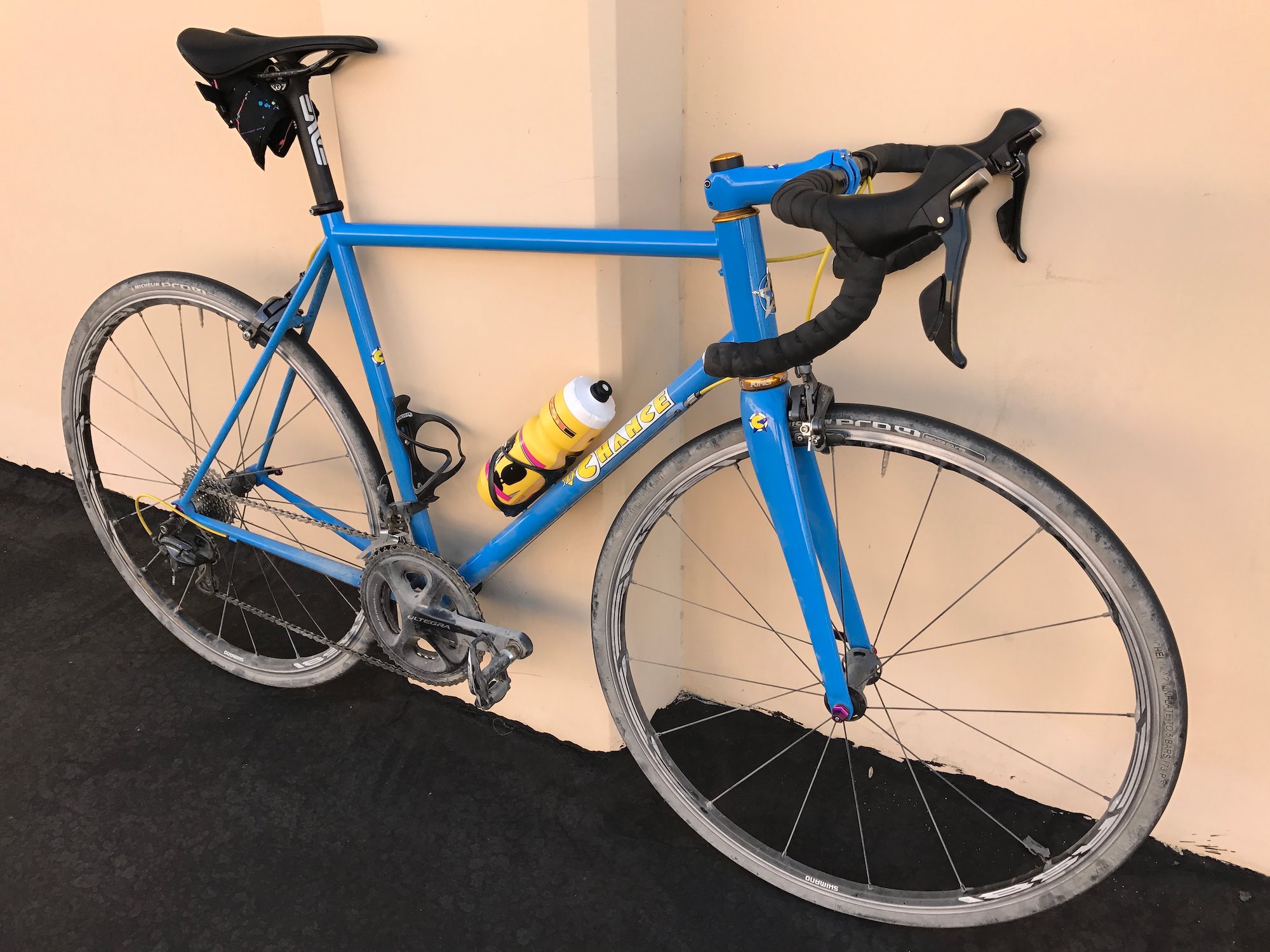 Footnotes
Words: Brett Cleaver. Photos: Andy Bokanev / Rapha & Brett Cleaver.